Giacomo Dacarro
[CHIM/03 – Chimica Generale e Inorganica – s.c. CHIM03/B1]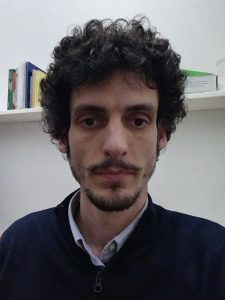 Giacomo Dacarro was born in Pavia, Italy, on 20th April 1980.
Studies
2004: Laurea degree in Chemistry, University of Pavia, 110/110 cum Laude.
2008: Ph.D. in Chemistry at the University of Pavia
Professional positions
2008-2016: post-Doc researcher at the University of Pavia (Department of Chemistry and Department of Physics)
In 2016 he became researcher (Ricercatore a tempo determinato) at the Department of Chemistry of the University of Pavia
Research:
2004-2007: molecular devices and machines, systems for multiple cation translocation, assembling-disassembling of helicate complexes
2007-2009: modification of Si and SiO2 bulk surfaces with monolayers of antibacterial metal complexes and of Ag nanoparticles, imparting microbicidal and antibiofilm properties
2009-2016: synthesis, characterization and functionalization of Au nanostars with tunable aspect ratio, study of their photothermal behaviour. Grafting of Au nanostars on bulk surfaces for the realization of switchable antibacterial and antibiofilm materials.
Lectures:
"Self-Assembled Monolayers of nanoparticles with photothermal properties" XIII Congresso Nazionale di Chimica Supramolecolare, Cagliari, 18-21/06/2017, keynote lecture
"Antibacterial green-synthesised silver nanoparticles for wound-healing" CEN Nanomedicine Symposium, Milan, 18/10/2016, invited talk
"Biomedical use of spherical and non-spherical silver and gold nanoparticles" Ricerca e nanomedicina CHT workshop, Pavia, 20/06/2016, invited talk
"Controllable coating of surfaces with three-plasmon gold nanostars monolayers: two active Near-IR photothermal channels for gold and gold plus silver antibacterial materials" XIV Sigma Aldrich Young Chemists Symposium 2014, oral communications
"Molecular modification of inorganic surfaces for nanomedicine" Self-assembled monolayers of silver nanoparticles grafted on glass surfaces Workshop held in Pavia on 09/02/2009, invited talk
Active research collaborations:
Laboratory of Optical Spectroscopy, Department of Physics, University of Pavia
Università Milano Bicocca; Università di Palermo; Seconda Università di Napoli
University of Liverpool, UK; Université de Bourgogne, France; KAUST, Saudi Arabia; Turku University, Finland)
Teaching
From 2016/2017: Laboratorio Chimico Integrato A, 3 credit units (inorganic chemistry laboratory for the degree in chemistry)
From 2017/2018: General and Inorganic Chemistry, 9 credit units, for the degree in biological science