Place and date of birth: Brescia, 17/04/1966
Nationality: Italian
Foreign Languages: English, French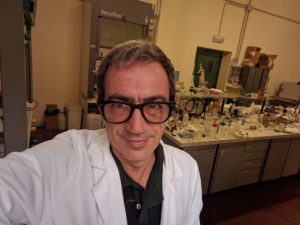 Address:
Department of Chemistry University of Pavia 27100 Pavia ITALY
Tel: +39 382 987342 Fax: +39 382 528544 email: angelo.taglietti@unipv.it
AT is co-author of about 105 articles and book chapters, with an h-index of 42 (according to Scopus). He has been tutor of more than 30 thesis degree, PhD students and post-docs.  In  2013 and 2019 he obtained the scientific abilitation as "Professore Ordinario" for sector 03/B1. Since October 2014 AT is Associate Professor in the Chemistry Department of University of Pavia, sector CHIM/03. He serves as  Editor in Chief for Applied Nano (MDPI).
Active research collaborations
Prof. Pietro Galinetto – Università di Pavia – Dip.di Fisica, Laboratorio di Spettroscopie Raman
Prof. Silvia Rossi, Prof. Giuseppina Sandri, Prof. Pietro Grisoli – Università di Pavia – Dip. Scienze del Farmaco
Dr. Carlo Morasso – IRCSS Maugeri Pavia – Laboratorio di Nanomedicina e Imaging Molecolare
Dr. Andrea Mario Giovannozzi – INRiM Torino – QN Metrologia Quantistica e nanotecnologie
Dr. Yuri Antonio Diaz Fernandez – University of Liverpool, UK – Open Innovation Hub for Antimcrobial Surfaces
Research interests
 Past:
design, synthesis and characterization of systems able to work as fluorescent sensors for analytes of biological interest;
kinetic characterization of demetallation or translocation processes involving polyamminic complexes of transition metal ions;
design, synthesis and characterization of systems able to perform controlled translocation of transition metal cations inside poli-aza ligands;
 Recent:
design, synthesis and characterization of devices containing transition metal ions able to perform supramolecular functions.
functionalization of surfaces with noble metal (Au, Ag) and semiconductors (CuS) nano-objects,  and/or transition metal complexes with microbicidal action, in order to build antibacterial materials
synthesis of noble metal (Ag, Au) nano-objects, their surface functionalization for sensing and theranostic applications, study of their SERS (Surface Enhanced Raman Spectroscopy) activity.
green synthesis of noble metal nanoparticles exploiting agricultural waste materials
Career
2014– Associate Professor, Pavia University, scientific sector CHIM/03. Since academic year 2014-15, in this University, AT is the appointed teacher of the following courses: General and Inorganic Chemistry (degree in Pharmacy), Inorganic Chemistry III and Laboratory of Inorganic Chemistry III ("Laurea Magistrale" in Chemistry).
1999 – 2014 Researcher in Chemistry at Pavia University. In 2007 he organized, in collaboration with Professors Luigi Fabbrizzi and Antonio Poggi, the international meeting "2nd International Symposium on Macrocyclic and Supramolecular Chemistry", held in Salice Terme (PV) from 24 to 28 of june 2007, with more than 250 partecipants.
1997-1999 Postdoc grants for research on supramolecular sensors and switches
1996 Grant from the Foundation "Lombardia per l'Ambiente", program title: "Liquid membranes and specific ligands for the removal of of metal ions from waste water"
1992 – 1995 PhD courses in Chemical Sciences, from november 1992 to november 1995. Title of PhD thesis: "Electron transfer processes in Supramolecular Systems." Supervisor: Prof. Luigi Fabbrizzi (Pavia University). Title earned on 01/10/1996.
1992 Prize from "Agip Raffinazione" for environmental researches on "Pollutants elements".
1992 Chemsitry degree (Laurea), University of Pavia, on 5/02/1992: full marks cum laude (110/110 e lode). Thesis title: "Azacyclam: un macrociclo penta-azotato che forma complessi tetracoordinati". Supervisor: Prof. Luigi Fabbrizzi (Pavia University).